Totally Queer & Awesome Dragon Con Kickoff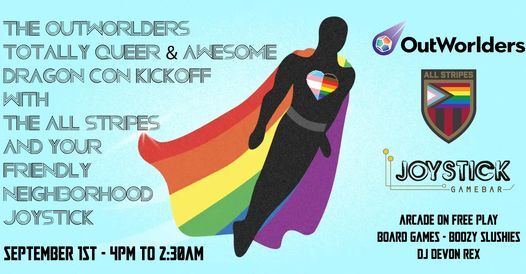 Join Joystick Gamebar, OutWorlders, and the All Stripes for one fabulous kickoff to Dragon Con in our temporary residence at 161 Peachtree Center Avenue (the old Agatha's spot). Joystick's arcade cabinets and pinball machines will be on free play. OutWorlders will have board games, and the All Stripes will be making us dance with their in-house wunderkind DJ Devon Rex. Plus we got Joystick's boozy-ass slushies.

OutWorlders is an LGBTQ+ sci-fi and gaming group that has been in operation since 2000, and the All Stripes is the LGBTQ+ supporter's group for Atlanta United. Joystick is your humble local nerdy dive bar. Together we are a totally queer and awesome variant. We'll be celebrating all day and night. Be sure to come to see us before He Who Remains sorts this all out.
When?
Wednesday, September 01, 2021
4:00 PM—2:30 AM
Where?
161 Peachtree Center Ave NE
Atlanta, GA 30303