OutReaders Book Club: Hild
NOTE: We're meeting online via videoconferencing. (Link posted one hour before event.)

Do you love books, sci-fi, and fantasy? Then join OutReaders, the book club of OutWorlders!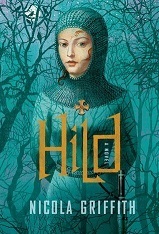 This month's book is "Hild" by Nicola Griffith: "Hild establishes herself as the king's seer. And she is indispensable—until she should ever lead the king the astray. The stakes are life and death: for Hild, her family, her loved ones, and the increasing numbers who seek the protection of the strange girl who can read the world and see the future."

We'll talk about the book's themes, characters, plot, and ending. And we will vote on upcoming books to read!

OutWorlders is Atlanta's premier LGBT+ sci-fi and gaming club. Book Club is the third Saturday of every month.

This is a free event and adults only. You do not need to be a member to attend, but we gladly accept donations to keep event and venue costs down.
When?
Saturday, June 20, 2020
2:00 PM—4:00 PM